Bathtub Refinishing Phoenix AZ
As an established and reputable bathtub refinishing company in Phoenix AZ, we have handled thousands of bathroom refinishing projects over the years, thus gaining significant experience. We handles projects from many different home owners, landlords, and property managers in the region who have become satisfied customers that have played a vital part in our growth. They have marketed us through word-of-mouth recommendations, stating we are a leading bathtub refinishing company in Arizona.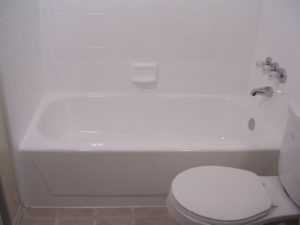 We offer shower tile refinishing and bathtub restoration services that are an integral part of any major bathroom renovation project that's on a budget. That means we will be helping you cut the costs on the remodel and manage to get the bathroom of your dreams at an affordable price.
Bathroom remodeling entails ripping out the old tiles, tub, other surfaces, and fixtures. It is a process that can turn out to be incredibly expensive, time-consuming, and "painful" if not well planned. That is why we have invested a lot in specialized tools and knowing which techniques are bested suited for which kind of job. That is how we can revamp any bathroom, giving its existing surfaces a new lease of life.
We will breathe new life into your bathroom and guarantee that this does not have to cost you an arm and a leg. Thanks to our modern industry tools, innovative solutions, and vast expertise in the area of bathroom renovations, we are more than able to take your dated bathroom and give it a contemporary look, feel, and function. We can also work with existing vintage materials and installations to make the room exude some exquisite chicness and elegance.
Check us out the next time you are searching for "tub refinishing near me." Below are some of the shower, tile, and bathtub refinishing and re-glazing services that we offer. Get dazzled by our vast portfolio of transformed bathroom projects.
Phoenix Bathtub Resurfacing and Reglazing
We have a team of highly experienced technicians that use a selection of the best tools and solutions in the industry to deliver quality results on every bathroom re-glazing or refinishing project. For instance, we know cast iron tubs can be a valuable addition to your bathroom. That is why we offer unique reconditioning services that will make the dated cast iron tub burst with new life while ushering it into the 21st Century.
We also have the expertise for refinishing on fiberglass tubs. We can help return their lost sparkle and increase their lifespan. You need not put it out and get something new. Our refinishing services will have you avoid such costly alternatives, and you also will get the most bang for your buck. Talk to us and discover what we can do for you regarding your bathtub restoration needs.
We have all the necessary resources needed for any bathroom remodeling, be it working on a faded, painted, or chipped bathtub, or the old and dated shower space, or the old parceling/ceramic sink and other surfaces. We can transform every surface into something flawless and gleaming.
Shower Tile & Tub Refinishing Phoenix AZ
The shower tiles and shower pans are susceptible to developing mold and mildew, making them look dirty, discolored, and dated. If you have an old bathroom, it probably has a dated color scheme coupled with aging tiles. It will be in a state that cries out for some TLC, and that is where we can be of help to you.
We offer refinishing services that will restore the worn-out shower and tiles. Our technicians will clean the grout, re-polish, and even repaint the tiles to give them a new vibrancy. They use purpose-built tools and solutions designed to speed up the process so that you can have and enjoy your newly revamped shower in no time.
Our services have helped many Phoenix residents enjoy their refreshed, and transformed bathrooms and showers are a fraction of the cost of a new installation. We are good at what we do, we are efficient, fast, and offer our services at an affordable rate. Call us today to learn more about our bathroom renovation services.
Phoenix AZ Bathtub Restoration Process
Every bathtub re-glazing project demands adequate preparations. The use of specialized tools and products that will clean and even repair the bathtub is essential. When we work on your bathtub, we will ensure that there is no dirt and soap scum, and we also will fix any chips or cracks that we find when re-glazing the tub.
For some tubs, we might sand down the surface to roughen it up a bit for the paints and finishing to latch onto the surfaces firmly. In other bathtubs, we might use acid products that etch the surface to create the desired effect. As such, the prep work will differ depending on the kind of bathtub we are to handle. We always cover all the areas that are not being resurfaced to ensure they are not affected.
Once we have cleaned and reconditioned the surfaces, we then proceed to re-glaze or repaint using durable, high-quality products. When doing any spray paints, we ensure the spraying is localized to the exact area of focus. We also our best to avoid creating too many fumes by installing a ventilation system that will extract the dust particles and paint fumes. The ventilation also helps to speed up the drying process that minimizing the downtime.
How Long Does The Refinish Last?
A correctly done refinish should last for years if you also clean and care for your bathroom regularly using the recommended products. The newly transformed bathtub, shower, tiles, sink, and other surfaces can continue to look amazing for another 10 – 15 years if you show them enough TLC. The bathroom might seem new, but the material underneath all that beauty is older than they appear. That is why you should show them special care after their restoration.
We got you covered, whether you need shower tile resurfacing, clawfoot or cast iron tub reconditioning, a fiberglass tub repair, vanity sink refinishing, or anything in between.
Are you looking for bathtub reconditioning specialists in Phoenix? We are the guys for the job. Call us at (602) 691-6552 to know more about the shower and bathtub refinishing and resurfacing services we provide. You can as well send us an email, and we will get back to you.
Phoenix Bathtub Refinishing Pros
1637 W Knudsen Dr Ste 100
Phoenix, AZ 85027
(602) 691-6552

Mesa, Chandler, Scottsdale, Glendale, Gilbert, Tempe, Peoria, Surprise, Avondale, Goodyear, Buckeye, Casa Grande, Maricopa, Apache Junction, Queen Creek, El Mirage, Florence, Fountain Hills, Eloy, Paradise Valley, Coolidge, Wickenburg, Tolleson, Youngtown, Guadalupe, Litchfield Park, Cave Creek, Carefree, Superior, Kearny, Gila Bend, Mammoth, San Tay, Sun City, Sun City West, Anthem, New River, Sun Lakes, Arizona City, Gold Canyon, Aguila, Ak-Chin Village, Arlington, Bapchule, Cactus Forest, Chuichu, Circle City, Eleven Mile Corner, Komatke, La Palma, Liberty, Morristown, Olberg, Palo Verde, Queen Valley, Red Rock, Rio Verde, Sacaton, Stanfield, Tonopah, Tortilla Flat, Valley Farms, Waddell, Wintersburg, Wittmann
85032, 85008, 85033, 85041, 85009, 85035, 85022, 85029, 85037, 85254, 85042, 85051, 85017, 85015, 85021, 85027, 85044, 85018, 85016, 85020, 85048, 85023, 85031, 85040, 85043, 85053, 85339, 85006, 85050, 85014, 85019, 85024, 85308, 85353, 85013, 85028, 85083, 85085, 85331, 85007, 85310, 85003, 85086, 85045, 85306, 85012, 85034, 85054, 85304, 85004, 85087, 85307, 85251, 85253, 85305, 85025, 85026, 85039, 85055, 85065, 85073, 85096, 85097, 85226, 85255, 85281, 85282, 85283, 85301, 85302, 85340, 85383, 85392, 85077, 85098, 85099, 85001, 85002, 85005, 85010, 85011, 85030, 85036, 85038, 85046, 85060, 85061, 85062, 85063, 85064, 85066, 85067, 85068, 85069, 85070, 85071, 85072, 85074, 85075, 85076, 85078, 85079, 85080, 85082